Don't Skimp On Dress Socks. High-Quality Is Best!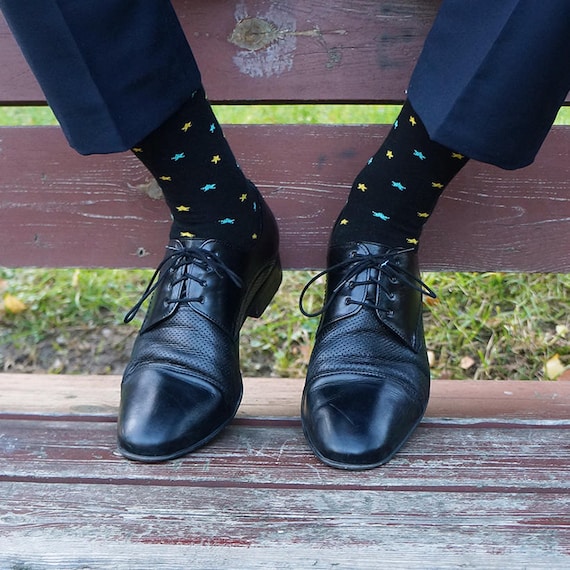 You bought a beautiful suit from Nordstrom's, complete with a tailored fit.  Your dress shirt is ironed and your new tie has the right tones and shades to nail this new corporate position. So why try to save money on your socks?
Socks are sold in bulk packs of 10 in multiple brick and mortar retail outlets as well as online, including department stores, discount stores, dollar stores, street fairs, online discounters and more, starting as low as 50 cents per pair. 
However, you just spent upwards of $500 on a smart suit, another $15 or $20 is worth the price.  Quality socks make you look and feel tall, and walk with confidence.
What makes high quality socks so special?  BLACKSOCKS shares five high quality dress sock features:
Material
The length of the fibers in the processed year is important for high quality. The longest fibers are in found in Peruvian Pima cotton, which high end sock manufacturers use, including BLACKSOCKS.  Pima cotton is known as "the silk of South America" due to its fine, silky fibers. Pima cotton is particularly widespread in Peru. It is extremely resistant to fungal attached and requires fewer pesticide treatments, which is better for the fibers, the environment and your feet. The cotton is spun with other fibers to make yarn. The more compact the yarn, the more resistant to wear and tear on the fabric and how it's woven. This provides socks, along with underwear and T-shirts that companies like BLACKSOCKS produce, unparalleled levers of quality.
Workmanship
A strong yarn must be woven as tightly as possible in order to achieve maximum durability and quality. BLACKSOCKS takes pride in using fine craftmanship to make its socks with hand stitching in the critical areas, like the heel and toe.  CNC-controlled knitting machines, which use state of the art sewing techniques, tightly knit socks, guaranteeing long-lasting, high-quality socks. Socks undergo greater stress in the heel and toe area than in the rest of the socks, so thicker yarns are used in that area or the year is worked multiple times during the knitting process.
Origin
Many people associate Italy with tasty cuisines, historic cultural heritage. fashion and a positive disposition—not a surprise when the food is just that good regardless of whether you dine at local trattoria or at a 5-star restaurant.  BLACKSOCKS proudly adds one more standout quality from Italy: socks. Check the origin before making a purchase. The majority of the socks from BLACKSOCKS are made by a family business in northern Italy, with other products made in Germany.  This relationship started in 1998 with the first pair of socks and has endured for 20 years. The color, fabric and fit are regularly tested by the production manager. This is quality control at its finest.
Color
Cotton is beige in its natural state, so all textiles that are not beige are either bleached or dyed. With dyed textiles, color-fastness is an important quality criterion Black dye in particular has a tendency to quickly turn grey, fade or look dull.  Only high-quality colors do not bleed and survive daily strains and wear and tear.
The Right Sizes
Do you know if there is a difference between Small, Medium and Large socks sizes and sizes that are tailored to your shoe size?  A lot. Most high-quality luxury sock purveyors make socks that correlate with the shoe size to ensure perfect quality fit and comfort. There is no bunching in either direction.  BLACKSOCKS has socks available for shoe sizes from 3-1/2 to 15-1/2 and has found that there are many customers that select the larger sizes.