Different Types of Hair Extensions
The world of hair extensions is very vast with a wide variety of options available. The hair extension is made from artificial synthetic hair as well as from natural human hair. Human hair extensions are made of real human hair donated by people, whereas, Synthetic hair extensions are made from various blended fibers. Such fibers are generally made from plastic and are made to imitate natural hair closely.
Both of these types of extensions come in all different sizes and colors. However, the synthetic extension is more coarse and rough than the human hair, making their movement and bounces different. Synthetic extensions do not blend as well as human hair extensions.
These extensions can also be colored and styled as per your desire. But, if you have natural human hair extensions, you can treat it like your own hair. You can even color, curl and apply hair products as you would do to your natural hair.
Other than different colors and materials, the hair extensions have different application methods such as clip in hair extensions, tape-in, and much more.
As the name suggests, these extensions can be taped or glued to your hair. A hairdresser generally applies these extensions. They align the tape-ins with your hair roots, followed by heating them to let the glue settle in. Even to remove such extensions, you need the help of a professional hairdresser. It is a long process as it takes up to an hour for the glue to dry up.
When you apply the tape-on extension, you have to be cautious about the hair products you use, as it might cause the glue or tape to wear off or get loose. To avoid your extensions from falling off, the hairdresser recommends using special shampoo and conditioners that are milder. But, if you apply and maintain them with caution, you can style them however you want. If you properly maintain your tape-in hair extension, then it might last you up to eight weeks.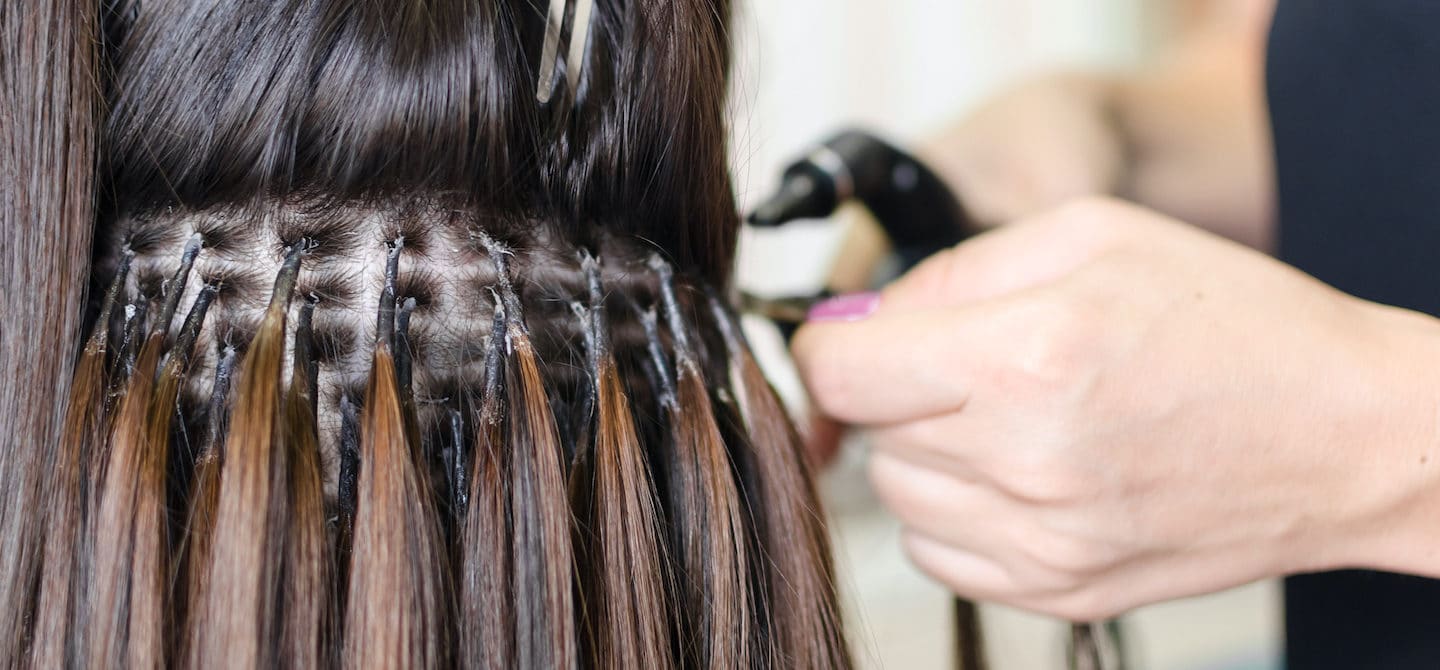 Fusion and Pre-Bonded Hair Extension
This type of extension is more commonly known as bonding, wherein hair extensions are fused with your natural hair using various types of adhesives. Bonding is done by a professional hairdresser and is a long process that might take up to 3 to 4 hours. The adhesion of these extensions is done through a heat gun or heat clamp that melts the glue enabling extensions to fuse with your hair. Bonding extensions are not suitable for everyone, as the process damages your natural hair to some extent.
After applying this extension, you can treat them as you would treat your natural hair and use regular haircare products. However, after every two to three months, your extensions need to be adjusted and re-positioned owing to the growth of your natural hair.
These extensions come in strands of hair contoured to a base of the fabric. These are ready-to-use extensions as they come with clips and all you have to do is clip the strands with your natural hair. Clip-in hair extensions are the most effortless extensions one can apply. Unlike other extensions, you do not need the help of a professional hairdresser to put on these extensions, as you can simply clip them in at home, and it takes only up to fifteen minutes. Moreover, these extensions do not cause any harm to your hair or scalp since there is no chemical involved. Owing to their no-fuss application, many people opt for such extensions.
You can even collect different colors or textures of these extensions and match them with your outfit.
The clip-on extension needs to be washed once every fifteen to twenty washes. If you properly maintain your extensions, they will last you up to 6 months.
Wigs and hairpieces are applied to your head to cover your natural hair. People wear full wigs to cover their entire head that acts as a replacement for their natural hair. The wigs are worn to cover hair loss, balding, thinning, or just to revamp the look.
Whereas hairpieces do not cover your entire head and are not a replacement for your natural hair. They generally come in the shape of a ponytail or a bun that you can use to cover a specific area of your head. The hairpieces are used to create a different hairstyle or cover any bald spot.
If you buy a wig or hairpiece made of natural hair, then it may last you for a year if you properly maintain it. At the same time, the synthetic ones do not stay more than a month.
If you are still confused about the extension type, you need to consult a senior hairdresser to give you advice suited to your specific hair needs.